Team India suffered a narrow defeat in the first Test of the series against England after the visiting team fell short by a margin of 31 runs. Skipper Virat Kohli emerged out to be the sole star for the team with the bat as he scored 200 runs on his own while the other batsmen scored 242 runs as a whole, which was one of the major reasons behind team losing the opening tie. A defeat in the series opener is a thing of past now and the Indian team will be looking to forget that and move ahead with an aim of emulating their success at Lord's, where they defeated England in 2014.
The first picture of the pitch at Lord's pitch may have indicated a grass cover on it but still, India might look to add a spinner due to the weather conditions. The heat in England may not support the pacers well, despite the pitch being green. Hence, the addition of Ravindra Jadeja in the playing XI is likely. He might replace Hardik Pandya, who scored 53 runs in the Test but failed to scalp any wicket.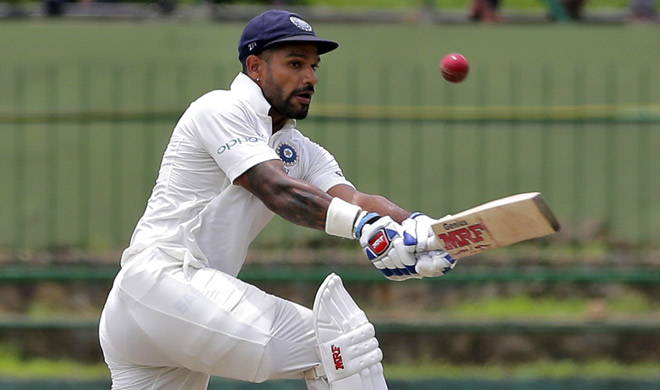 (Shikhar Dhawan is likely to be dropped from the playing XI for the second Test. Photo credits: AP)
In another expected change, Shikhar Dhawan is expected to sit out for Cheteshwar Pujara, who was surprisingly dropped for the first Test. Dhawan though had a 70-ball stay at the crease but he was finding it difficult to control himself from leaving the ball as it is totally contrary to his style of play.
In past every series that Dhawan had played outside sub-continent in past four years, he has failed to retain his place in the playing XI for a full series and in the Lord's Test as well, he is expected to warm the bench.
Apart from the two mentioned changes, Virat Kohli is not expected to make any other change. The clock is also ticking on Murali Vijay but he might keep his place for the full series as India do not have any experienced opener to replace him in the playing XI. The second Test of the series starts August 9 at Lord's.